Best Sprinklers for Your Lawn and Garden
Water Conservation · Sprinkler tubing, also known as a sprinkler pipe, makes it easy to install or repair your irrigation system. · Sprinkler valves can be used
HIGHLIGHTS:
✅ AUTOMATIC ROTATING SPRAY – Constant 360-degree automatic spray that's no need of auxiliary power equipment to work
✅ LONG SPRAY DISTANCE – It ensures a wide distance coverage of about 26ft to 32.8 ft.
✅ SAVE WATER – You can adjust the water density, size, and scope.
✅ EASY TO INSTALL – Equipped with a quick connect adaptor so you can easily use it upon installation.
PRODUCT DESCRIPTIONS:
This high-quality ABS-material 360 Degree Rotating Water Sprinkler is what you need to save time caring for your lawn.
The size is 8.27″ x 7.48″ x 3.74″ which is just the right size for a rotating water sprinkler. Don't be fooled, it might be small but it can cover and sprinkle a wide area of about 32.8 ft.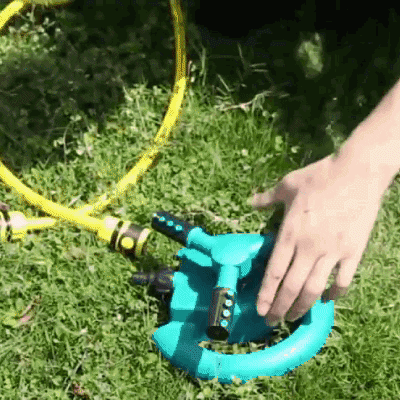 A quality lawn sprinkler is essential for keeping your lawn and landscaping green and growing.
Rotating sprinklers are the best type of sprinkler for a large lawn due to their even distribution and ability to work quickly.
Sprinkler Type: 

360 Gear Drive

Model Number: 

360 Gear Drive

Type: 

Sprinklers

Model Number: 

Sprinklers

Attributes: 

Garden irrigation sprinklers

Features: 

Irrigation system
Describe:
1. Water your garden, rejuvenate your lawn, or let the kids spend a fun water day outdoors
2. Whether you are a novice or just want to keep the grass alive, it is much easier to water outdoor plants when you don't have to stand there and hold a trigger squeeze sprayer under the scorching sun
3. Protect your flowers and feed your lawn
4. Our high-quality sprinkler heads are made of rust-proof ABS plastic, which can withstand rain, bad weather and naughty children, and can spray huge areas of lawn, garden and outdoor areas through three 360-degree rotating arms
5. Easy to use
Whether you are a novice or just want to keep the grass alive, it is much easier to water outdoor plants when you don't have to stand there holding a trigger squeeze sprayer under the scorching sun
6. Water-saving design
With 360-degree rotation function and three-nozzle spray, the lawn sprinkler can make full use of all the water to water your garden without wasting water resources
7. Efficient sprinkler irrigation system
Patented design of water saving device, which can save water to the greatest extent in a targeted manner by adjusting the density, size and scope of water
Specification:
Material: ABS+PP
Color: green/blue
Standard: European Union Standard
Size: 15*15*8.5cm